Epson Stylus CX3200 Driver downloads for Microsoft Windows and Macintosh Operating Systems. How to install driver for Epson Stylus CX3200 Printer?

Epson Stylus CX3200 Printer Driver Downloads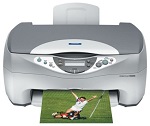 Operating Systems: Windows XP 32-bit, Windows 2000, Windows XP 64-bit, Windows Vista 32-bit, Windows Vista 64-bit, Windows 7 64-bit, Windows 7 32-bit
Driver File name: epson327610eu.exe, Released: 14 December 2010, Version: 1.30
Epson CX3200 Creativity Suite Driver – Download (25.12MB)
Operating Systems: Mac OS X PowerPC, Mac OS X Intel
Epson Stylus CX3200 Mac Driver – Download (6.60MB)
Epson Stylus CX3200 Scan 2.7w Mac Driver – Download (29.44MB)
Epson SM18E8 Easy Photo Print 2.40.00 Mac Software – Download (24.39MB)
User's Guide: This Epson Stylus CX3200 Manual for more information about the printer.
How to install driver: To install an Epson Stylus CX3200 driver, navigate to the location (download) of its file, double-click it, and follow the on-screen instructions.
The Epson Stylus CX3200 printer driver lets you choose from a wide variety of settings to get the best printing results. The status monitor and the printer utilities help you check the printer and keep it in top operating condition.